P.E. Curriculum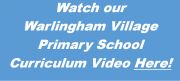 At Warlingham Village we promote a healthy and fulfilling lifestyle by developing self-motivation to take part in physical activity. By developing a positive attitude and interest in a wide range of physical activities in our children it provides them with the skills they need to continue with their interests outside of school. Our PE curriculum is designed to build children's self-esteem and confidence. To develop social skills through cooperating in groups, playing fairly to rules and mixing with children from other schools in competitive sport.
Each year group covers six different units of P.E which covers dance and gym as well as a veirt of team games. The skills within each unit are built upon from year to year. OUr curriculum ensures that a variety of PE units are experiences within each year group as well as building on previous knowledge, understanding and skills. For example, in KeyStage 1 children are taught to master basic movements including running, jumping, throwing and catching, as well as developing balance, agility and coordination. Progression in KeyStage 2 is established by the intention to be able to apply running, jumping, throwing and catching in isolation and in combination in competitive games, performance dances that use a range of movement patterns and take part in outdoor and adventurous activity challenges both individually and within a team.
By the time children finish their time in Year 6 with us not only have they developed a love of sports and an understanding of leading a healthy lifestyle but they have the skills and understanding of a range of sporting activities that supports them in their continuing education and further pursuits out of school.

_____________________________________________________________________________________________________
All pupils at Warlingham Village School are encouraged to be active and P.E. is a very important part of their curriculum. With this in mind we work with T10 to give the children either one or two P.E. lessons per week.
Below is the current timetable.
| | | |
| --- | --- | --- |
| | PERIOD 4 (1:15-2:15pm) | PERIOD 5 (2:15-3:15pm) |
| Monday | Year 2 | Reception |
| Tuesday | Year 3 | Year 5 |
| Wednesday | Year 1 | Year 5 |
| Thursday | Year 6 | Year 4 |
P.E. Kit
White or blue Warlingham Village Primary School t-shirt (round neck)
Navy blue shorts
plimsolls / trainers
All kit to be kept in a named P.E. bag with drawstring.
We cannot stress enough how important it is to have all items of uniform named.
__________________________________________________________________________________________________
Links to Pupil Resources:
Links to Parent Resources:

Page Downloads