English: Phonics Curriculum
Secure phonic knowledge provides the building blocks for successful reading and writing in Early Years and throughout KS1 and KS2. We follow the Letters and Sounds phonics programme. Each daily phonic session reviews previous learning, teaches new sounds and gives the opportunity for these to be practised in a lively and well-paced manner. Pupils transfer their knowledge from these discrete 20 minute daily sessions into all areas of the curriculum. At the end of Year 1 pupils sit the Phonic Screening test to establish whether they have reached the expected standard. For those children who do not pass the Phonic screening in Year 2 or who are not reading and writing independently, phonic provision is included into KeyStage 2. This provision takes the form of daily 10 minutes sessions using Toe by Toe (provision for reading difficulties and dyslexia). Implementation:
Phonics is taught from Reception to Year 2 in daily 20-minute sessions. Pupils are grouped by phonic ability across year 1 and 2 to ensure teaching is precisely directed at a child's stage of development. Those children with particular needs benefit from being in a smaller group and will receive additional 1-1 teaching from teachers later in the day. As well as daily formative assessment, half-termly assessments are used in Year 1 & 2 to ensure no child ''falls through the gaps' in phonics. In EYFS, pupils are assessed at the end of each phase of Letters and Sounds as well as part of their ongoing EExAT observations. Teachers also use previous phonics screening tests to track progress throughout the year to help inform intervention groups. Half termly Pupil INformation Meetings identify any children that need additional support and focus on SEN and pupil premium pupils. Provisions are adjusted for the needs of these individuals and these provisions form part of the subject monitoring process. The subject leader works closely with other subject leaders, SENCO and inclusion lead to ensure learners needs are met. PIMS meetings ensure that teachers are held to account for the progress of the children in their class. Pupil voice is regularly obtained to help inform our curriculum provision. Phonics planning is regularly updated to ensure teaching is challenging and inspiring for pupils. Following assessments at the end of each phase, we identify whether children are ready to move onto the next phase, revisit some sounds or receive additional support in a smaller group. The Phonics screening assessment score was 80% in 2017-2018 and 83% in 2018-2019. This year's target for passing the Phonic Screening test at the end of Year 1 is 90%. Children in Year 2 who did not achieve the expected standard in Year 1 re-sit Phonic screening at the end of the year.
By the end of their time with us, pupils are confident readers and spellers who enjoy discovering new and challenging reading matter. It is our role to ensure that secure phonic knowledge provides them with the skills to access our exciting and varied curriculum.

_____________________________________________________________________________________
Links to pupil resources:
Links to parent resources: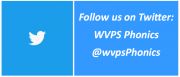 ______________________________________________________________________________________
Page Downloads