English: Reading Curriculum
By the end of their time with us, pupils are confident readers who enjoy discovering new and challenging reading matter. Our goal is to help children become enthusiastic and inquisitive readers who can use their background knowledge to fully understand and enjoy the text they are reading.
Building on the secure foundations from phonics, we continue to inspire children to develop a lifelong love for reading. Through a whole class approach, we ensure that all children are exposed to high quality texts that engage their imagination, deepen their knowledge and widen their vocabulary. Each year group will encounter a variety of text types suitable for their age range and will analyse these using specific skills taught throughout the year. Children will practise these skills in all curriculum areas.
Our school library and our classroom libraries have a good range of high quality fiction and non-fiction texts for children to choose from while reading for pleasure. We encourage, praise and reward children for any reading they do inside and outside school. Children learn weekly Fluency passages which are celebrated on Fridays and children participate in a variety of book related activities including celebrating World Book Day which all contribute to reading engagement.
Our children are inspired by the books they have read and the books that are read to them. They are encouraged to discover new genres and authors that appeal to them and are constantly challenged in their comprehension of their reading.
Scroll to the bottom to watch our video about why we love reading
____________________________________________________________________________________________
Links to pupil resources:
Links to parent resources:
Books for Topics - A sugggestion of books sorted into different topic areas

Barrington Stokes - Suggestion of books aimed at reluctant readers and that are dyslexia friendly.

Pobble 365 - a new picture everyday with a set of questions to support children in explaining their interpretations.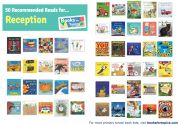 Page Downloads