English: Reading Curriculum
At Warlingham Village, we aim to inspire children to discover a love for reading. Our goal is to help children become enthusiastic and inquisitive readers who can use their background knowledge to fully understand and enjoy the text they are reading. Each year group will encounter a variety of text types suitable for their age range and will analyse these using specific skills taught throughout the year. Reading skills are taught during guided sessions, however, children will transfer these skills to all curriculum areas.
By using the whole class reading approach, we ensure that all children are able to access and engage with a wide range of texts to interest and challenge them. Each week the children will practise a range of skills to help develop their comprehension skills. Live feedback during the lesson ensures that children are supported in their reading work where necessary. At the end of each week, children's understanding will be evaluated which will inform future planning and enable pupils to build on previous knowledge. This ensures progress is in line with the year objectives. Termly, PIxL assessments allow children's strengths and areas of development to be identified to inform next steps. At the end of Year 6, statutory tests are used, alongside teacher assessment, to celebrate children's learning. Our school library and our classroom libraries have a good range of high quality fiction and non-fiction texts for children to choose from while reading for pleasure. We encourage, praise and reward children for any reading they do inside and outside school.
Throughout their journey at Warlingham Village, our pupils are constantly building on their skills in reading. They become confident and fluent in reading a range of texts types, they are able to discuss the texts they read and apply a range of skills across the curriculum and in real-life contexts. By the time our pupils reach the end of year 6, they are able to apply all the skills they have learnt to become successful life-long readers.
____________________________________________________________________________________________
Links to pupil resources:
| | |
| --- | --- |
| The Reading Realm App - A huge sleection of extracts that can help children decide if they would like to read the whole book. | |
Links to parent resources:
Books for Topics - A sugggestion of books sorted into different topic areas

Barrington Stokes - Suggestion of books aimed at reluctant readers and that are dyslexia friendly.

Pobble 365 - a new picture everyday with a set of questions to support children in explaining their interpretations.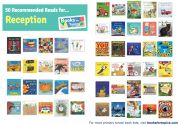 Page Downloads